news
June 2022 RYEBANK GALLERY OPEN, extended to 3 July 2022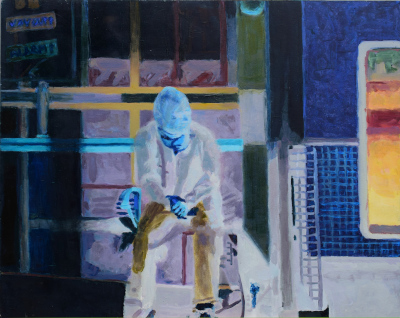 My painting Lockdown Blues was selected from over 400 international entries for the RyeBank Gallery Open RyeBank Gallery, 11A High Street, Rye, East Sussex TN31 7JF
April 2022 WHERE WE LIVE. In Conversation and Publication Launch Thursday 5 May, 1 to 2pm.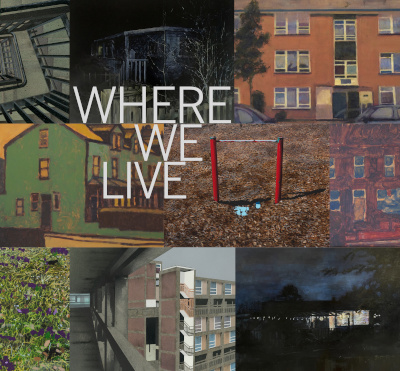 Five Artists. Five places. The social landscape of England explored in paintings. The artists will discuss their work and the exhibition in this special afternoon event, alongside readings by poets Harriet Tarlo and Helen Angell. At the event the newly published exhibition catalogue, featuring an introductory essay by poet and radio presenter Ian McMillan, will be available for sale. To attend the event Book here Contact me (via sidebar menu) to pre-order a copy of the publication at 50% discount. £5 plus postage
March 2022 PAINTINGS OF LONDON at MY SPACE SOHO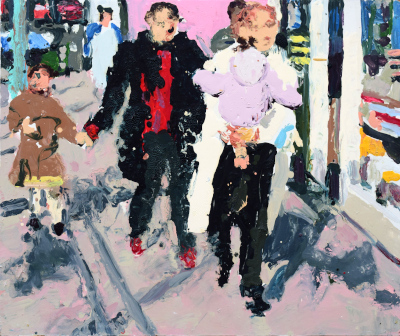 A selection of my paintings of London are showing at My Space Soho, 21 Berwick Street, London W1F 0PZ There will be a launch party in the bar on Tuesday 22 March from 6.30pm to 10pm. Food is served till 8pm. Booking via the newly launched app. 2Cool2Q February 2022

s THAT ISLAND FEELING
co-curated with Madi Acharya-Baskerville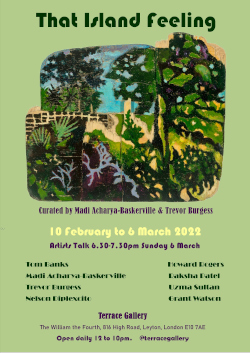 Terrace Gallery,The William the Fourth, 816 High Road Leyton, London E10 7AE.10 February to 6 March 2022 Open daily 12-10pm. Closing party and Artists Talk: 5.30 -7.30pm Sunday 6 March 2022
Tom Banks, Madi Acharya-Baskerville, Trevor Burgess, Nelson Diplexcito, Raksha Patel, Howard Rogers, Uzma Sultan, Grant Watson An exhibition of paintings that reflect feelings swirling around the sense of place on these islands of Britain at the current time – a time with so many debates about restrictions on who can travel and to where, who belongs and who doesnt.

January 2022
WHERE WE LIVE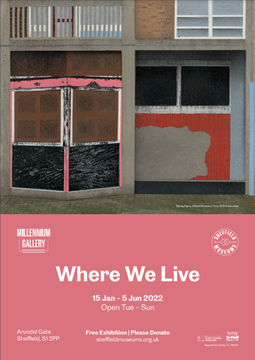 The Millennium Gallery, Sheffield Museums, 15 January to 5 June 2022 Five Artists. Five places. The social landscape of England explored in paintings.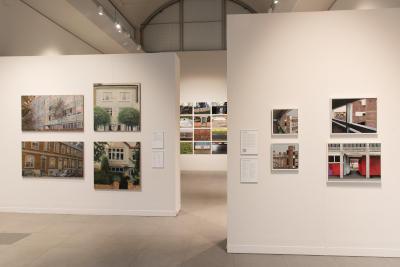 Where We Live at Millennium Gallery. Photo: Chris Saunders
Where We Live brings together paintings by Trevor Burgess, Jonathan Hooper, Mandy Payne, Narbi Price and Judith Tucker to examine overlooked and under-regarded aspects of the landscape we inhabit today. Presenting five locations across England, the works on display interrogate the social landscape of England at a time of profound political and social change. Each series of paintings offers the viewer multiple perspectives on the notion of home and our sense of place. Tensions in the images between legacies of the past, the reality of the present and often conflicting visions of the future are layered with poetic texts foregrounding the voices of the residents.
Where We Live has been initiated by Trevor Burgess, whose collaborative projects as an artist-curator explore the contemporary practice of painting and its social context. The exhibition launched at Alan Baxter Gallery, London in autumn 2021 and will be touring nationally through 2022 and 2023. Read national press coverage of the exhibition: Press Release Review by Laura Gascoigne: The Spectator Review by Pamela Buxton: RIBA Journal Review by Maja Lorkowska: Creative Tourist Feature by Trevor Burgess in The Jackdaw
In partnership with Contemporary British Painting

December 2021
ELEGY: Trevor Burgess. Cai Bellis.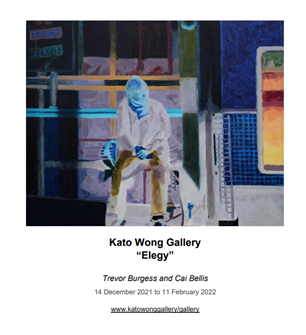 Kato Wong Gallery4 December 2021 to 11 February 2022 Kato Wong Gallery is excited to host the online exhibition by the painters Trevor Burgess and Cai Bellis. Elegy pairs the established Burgess with Bellis, the younger upstart. Burgess is showing his Inverse Colour series, a reaction to the controversy of Brexit and the crisis of the Covid pandemic. He inverted the colours of his street paintings to express the sense of loss, fear and anxiety he was feeling. We can all relate to the sense of profound change in his paintings. Bellis is an interesting new prospect: a skilled painter who portrays the urban music scene. His paintings respectfully and faithfully capture the energy, passion and dedication of gatherings in clubs. His subject matter is unusual for a fine artist. This is what makes him so exciting.

December 2021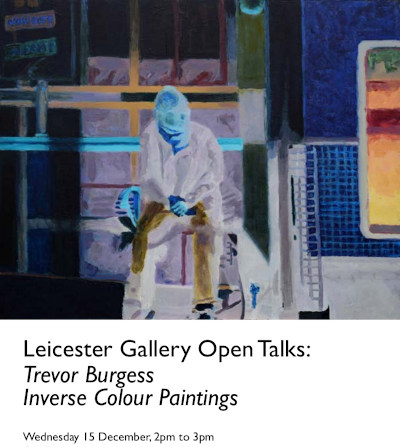 I will be giving an online Open Talk to Fine Art students at De Montford University on Wednesday 15 December, 2pm to 3pm. The talk will include a tour of the current online exhibition showing the Inverse Colour Paintings at Kato Wong Gallery The talk is open to the public and you are welcome to join us at 2pm JOIN HERE
November 2021
GROUP EXHIBITION 2021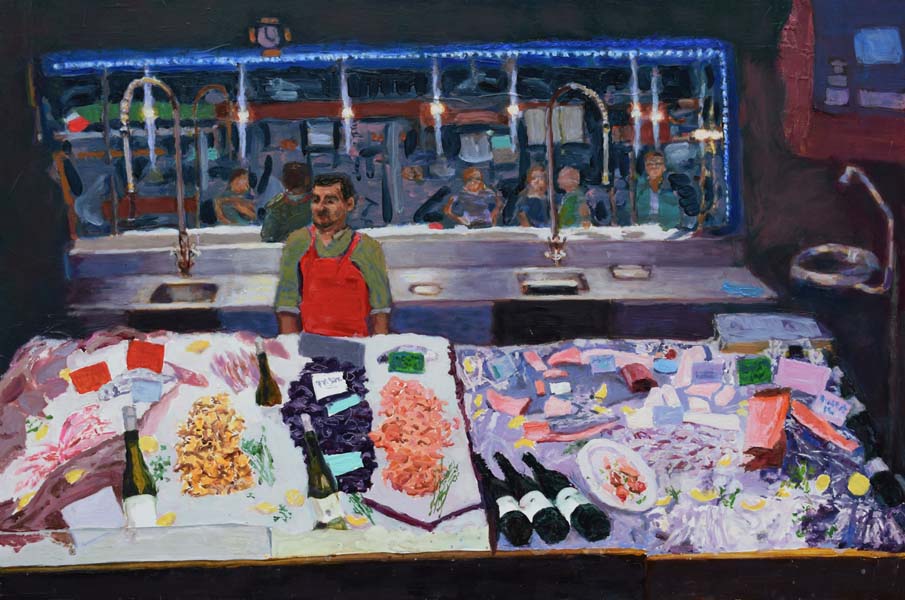 Chappel Galleries, 15 Colchester Road, Chappel,Essex. CO6 2DE 13 November to 31 December 2021 Jamie Boyd, Trevor Burgess, Andrew Gadd, Paul Rumsey, Ronald Sims, David Stone, Mary Griffiths, Shanti Panchal, Alex Pemberton

October 2021

WHERE WE LIVE 5 October to 12 November 2021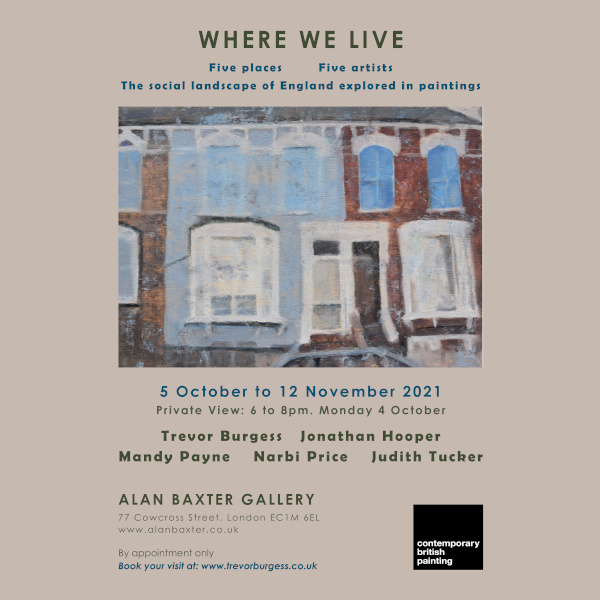 Alan Baxter Gallery, 77 Cowcross Street, London EC1M 6EL 29 October 6-8pm Artists Panel Discussion All five artists will be present for a panel discussion at the gallery. The event will also include readings by poets Helen Angell, who has collaborated with Mandy Payne and residents of the Park Hill Estate, Sheffield, and Harriet Tarlo who has collaborated with Judith Tudith and residents of the Humberstone Fitties.

July 2021

Inverse Colour Saturday 17 to Sunday 25 July. Open daily 2 to 8pm.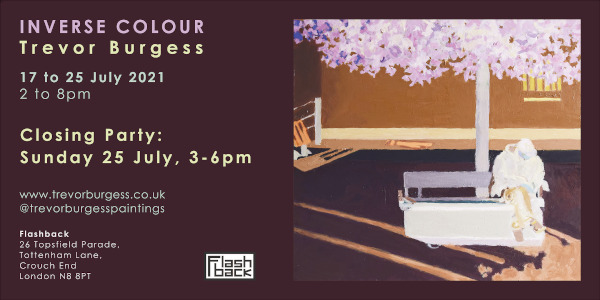 A solo exhibition of new paintings in which I have been using inverse colour to register the psychological impact of Brexit and the Covid pandemic. This pop-up exhibition is hosted by Flashback in the premises that will house their new Crouch End record store, opening in August, including a coffee bar in assocation with LoFi Coffee Artists Statement Press Release Closing Party Sunday 25 July, 3 to 6pm. Brothers in Art and Music. In Conversation. I will be joined by my brother, Mark, founder of Flashback Records who will be talking about the plans for a new bigger, better Flashback Record store at Topsfield Parade in Crouch End. I will give some insights into the paintings and why I turned to using Inverse Colour. Talk starts at 4pm
August 2021
THE POWER OF PAINTING. 5 to 8 August 2021
Copeland Gallery, Unit 91, Copeland Park, 133 Copeland Park, London SE15 3SN Open: 11am to 8pm. Private View: 12 to 11pm. Friday 6 August.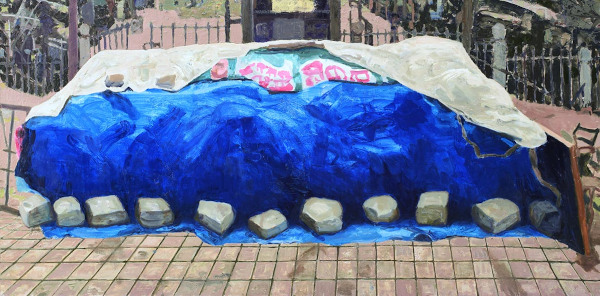 Blue wrap-up (Bengalaru), oil on canvas, 139 x 280cm.
Alex Veness - Covadonga Valdes - Jake Clark - Marilyn Hallam - Neil Tait - Mike Silva - George Wills - Nelson Diplexcito - Howard Rogers - Suzanne Baker - Eleanor May Watson - Chris Orr - Nick Wyatt - Dan Coombs - Josephine Wood - Trevor Jones - Trevor Burgess - Max Mason
This exhibition comes after a year of waiting, during which time much has changed. What hasnt is the pleasure of seeing paintings in the flesh. Much has been made of the ability to hold virtual exhibitions but what is lost is the sheer physical presence of painting. When the singularity of the decisions made of size, scale and texture and the complexity of colour are reduced to a virtual world all these things are lost. All the artists showing here value that unique ability of painting to occupy space, both real and virtual. We hope that this exhibition will be a reinstatement and celebration of the Power of Painting.
June 2021
Something from Nothing: a Group Exhibition. 4 June to 30 July 2021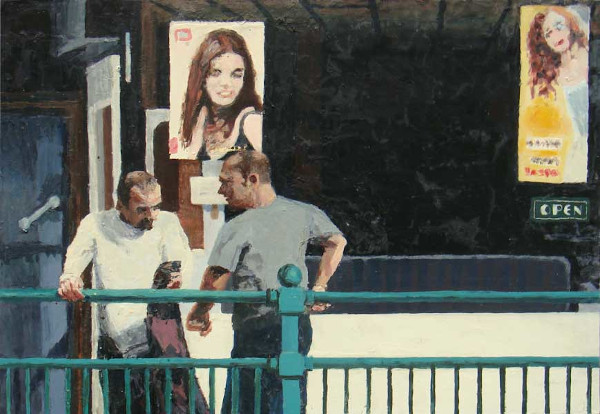 The inaugural exhibition online at Kato Wong Gallery, is a group exhibition showcasing 13 diverse artists: Beverley Duckworth, Cai Bellis, Caroline Lambard, Catherine Jacobs, Chris Andreou, Corina Andrian, Daniela Militaru, Jess De Zilva, Kato Wong, Kyla Harris, Tim Boddy, Trevor Burgess. November 2020
THE DISCERNING EYE. 19 November to 31 December 2020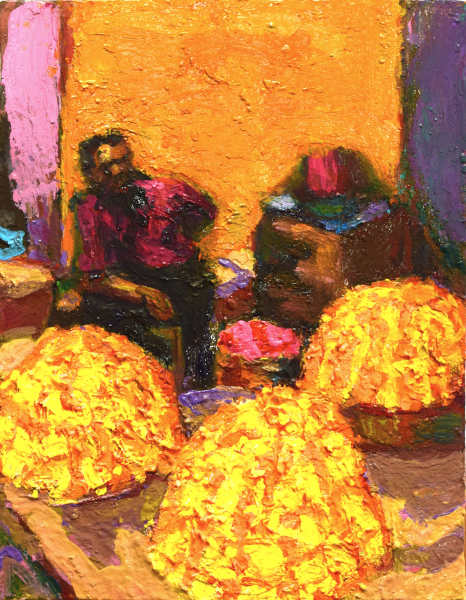 Krishna Rajendra Market (Bengalaru), oil on board, 24.5 x 19cm.
Three of my paintings have been selected for The Discerning Eye. This year the exhibition, which usually takes place at the Mall Galleries in London, will instead be held online.

December 2020
INTERNATIONAL ART AWARD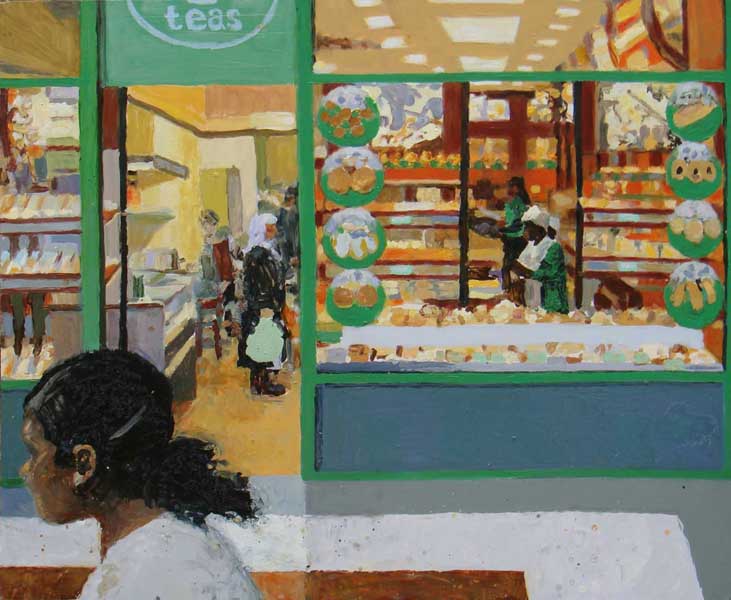 Bakery, oil on board, 100 x 122cm. My painting Bakery was selected as a winner of The Art of Everyday: Louis' rules Open Call at www.artrepreneur.com @artrepreneur.og

October 2020

BEEP PAINTING BIENNIAL. 3 October to 11 November 2020


Elysium Gallery, Swansea,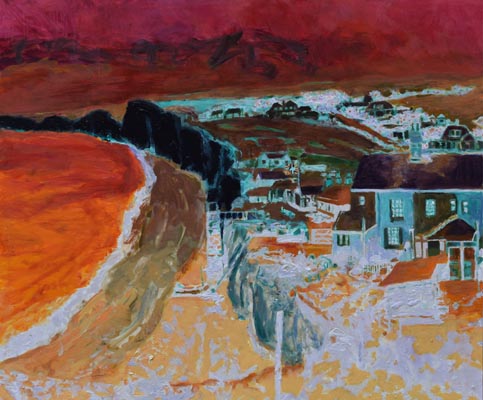 Birling Gap, 24 June 2016, oil on board, 100 x 122cm.
My painting, done on the day of the Brexit referendum result, has been selected for this contemporary international painting prize which supports imaginative and vibrant practice in contemporary painting. This was the first painting in which I used inverse colours. I have been experimenting further with inverting colour and you can see a selection of these paintings on a new page in the Gallery tab. As a taster for the exhibition, BEEP has been posting work on Instagram @beeppainting and, if you can't make it to Swansea, there will also be a programme of online events. www.beeppainting.com
September 2020

TOWN HOUSE OPEN. 12 September to 11 October 2020
Town House Spitalfields, 5 Fournier Street, Spitalfields, London E1 6QE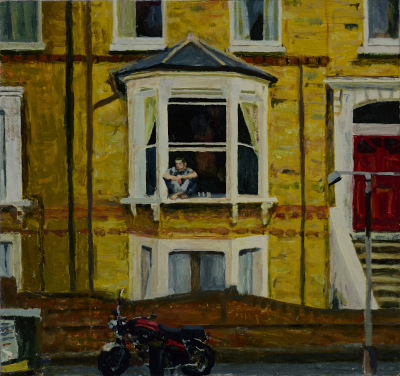 Man in the Window, oil on board, 56 x 60cm.
This exhibition is a fabulous selection of 30 small paintings of London's East End by 30 contemporary artists. See a preview of the exhibition on Spitalfields Life blog
September 2020
GOWITHYAMO Group Exhibition. 17 to 19 September 2020
Hoxton 253 Project Space, 253 Hoxton Street, Whitmore Estate, London N1 5LG.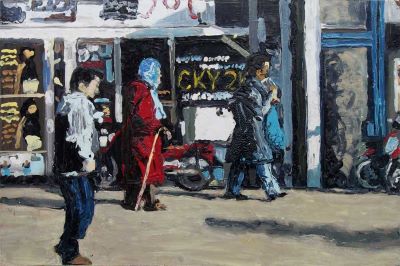 CKY2K, oil on board, 67 x 92cm.
This painting is featured in gowithYamo s first group exhibition, curated by Kato Wong, exhibiting work by 21 emerging contemporary artists. See the virtual exhibition here and access the online catalogue here