PAINTINGS
Welcome to my website, which features my paintings and information about my work.


WHERE WE LIVE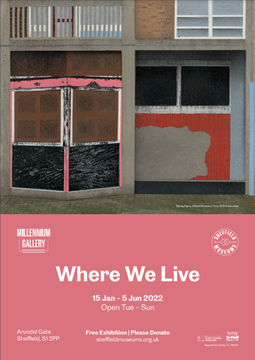 The Millennium Gallery, Sheffield Museums, 15 January to 5 June 2022 Five Artists. Five places. The social landscape of England explored in paintings.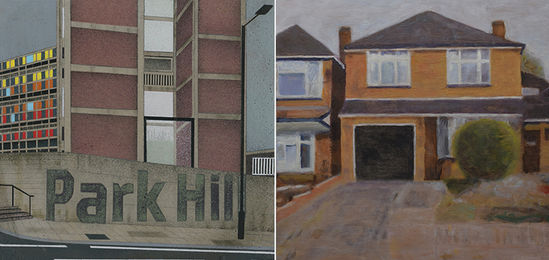 L-R: Mandy Payne, Every Day Is Like Sunday, 2021 & Trevor Burgess, A Place To Live 63, 2018
Where We Live brings together paintings by Trevor Burgess, Jonathan Hooper, Mandy Payne, Narbi Price and Judith Tucker to examine overlooked and under-regarded aspects of the landscape we inhabit today. Presenting five locations across England, including Sheffield's own Park Hill, the works on display interrogate the social landscape of England at a time of profound political and social change. Each series of paintings offers the viewer multiple perspectives on the notion of home and our sense of place. Tensions in the images between legacies of the past, the reality of the present and often conflicting visions of the future are layered with poetic texts foregrounding the voices of the residents.
Where We Live has been initiated by Trevor Burgess, whose collaborative projects as an artist-curator explore the contemporary practice of painting and its social context. The exhibition launched at Alan Baxter Gallery, London in autumn 2021 and will be touring nationally through 2022 and 2023. Read the Press Release Read feature in the Sheffield Star
In partnership with Contemporary British Painting

ELEGY: Trevor Burgess. Cai Bellis.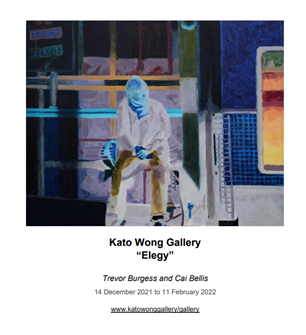 Kato Wong Gallery, 3 December 2021 to 11 February 2022 Kato Wong Gallery is excited to host the online exhibition by the painters Trevor Burgess and Cai Bellis. Elegy pairs the established Burgess with Bellis, the younger upstart. Burgess is showing his Inverse Colour series, a reaction to the controversy of Brexit and the crisis of the Covid pandemic. He inverted the colours of his street paintings to express the sense of loss, fear and anxiety he was feeling. We can all relate to the sense of profound change in his paintings. Bellis is an interesting new prospect: a skilled painter who portrays the urban music scene. His paintings respectfully and faithfully capture the energy, passion and dedication of gatherings in clubs. His subject matter is unusual for a fine artist. This is what makes him so exciting.

THAT ISLAND FEELING
co-curated with Madi Acharya-Baskerville Terrace Gallery,The William the Fourth, 816 High Road Leyton, London E10 7AE.10 February to 6 March 2022 Open Mon-Fri 4-10pm. Sat-Sun 1-10pm. 15 January to 5 June 2022 Private View: 6 -10pm Thursday 10 February 2022
Tom Banks, Madi Acharya-Baskerville, Trevor Burgess, Nelson Diplexcito, Raksha Patel, Howard Rogers, Uzma Sultan, Grant Watson An exhibition of paintings that reflect feelings swirling around the sense of place on these islands of Britain at the current time – a time with so many debates about restrictions on who can travel and to where, who belongs and who doesn't.

IN CONVERSATION WITH CAVALIERO FINN

The Gallery Cavaliero Finn visited my studio to interview me talking about my series of paintings of markets around the world. They have released a video of the interview and are featuring a selection of the paintings on their website. See the video here
See the paintings here

W|O|S Galerie
I am one of the artists featured by W|O|S Galerie Switzerland www.galerie-wos.com

Bridgeman Images
Over 100 images of my paintings available to licence for reproduction www.bridgemanimages.co.uk