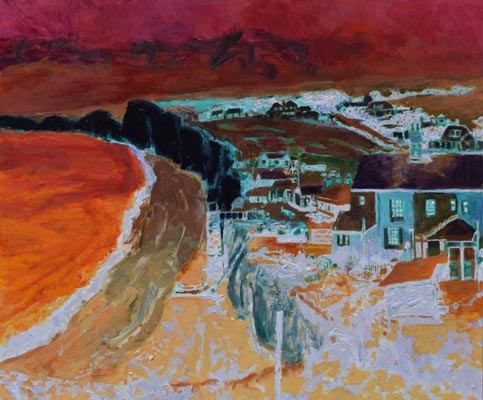 Birling Gap. 24 June 2016. Oil on board. 100 x 122cm.
Birling Gap. 24 June 2016 I made this painting in response to feelings of turmoil and loss after the Brexit vote. It's a view of Birling Gap and the Seven Sisters cliffs on the South coast of England. I can't explain it very well. It's about borders and boundaries, crumbling cliffs, a polarised country, confusion. My granny and dad lived here and other members of the family still do. It is painted in inverse colours. All the colours are the inverse of what you actually see. With just this switch in the process of vision, suddenly everything turned inside out. The distortion took over, an atmosphere of fear crept in and it became hard to recognise a place that I love and that used to be familiar to me.

In public
These are pictures on a larger scale of people in the public arena - parks, public squares, playgrounds, the beach. In these pictures, I have continued to develop my interest in the relationships of family groups, parents and children, which goes back to my very first large scale figure compositions, and my idea that what I am doing in structuring a painting is structuring human relationships. Here, human interactions and relationships are bound up with the nature of social space - big, public areas, illuminated and unified with light.
Beach
Oil on canvas
183 x 183cm



On the swing
Oil on canvas
115 x 162cm



Plein air
Oil on canvas
168 x 142cm



Steps
Oil on canvas
160 x 142cm